Public Speaking and Education​
We have presented the Bredesen Protocol at brain health conferences, medical education seminars, community information sessions, online seminars, and webinars with our clients' doctors.
Contact us to speak at your event or educational session.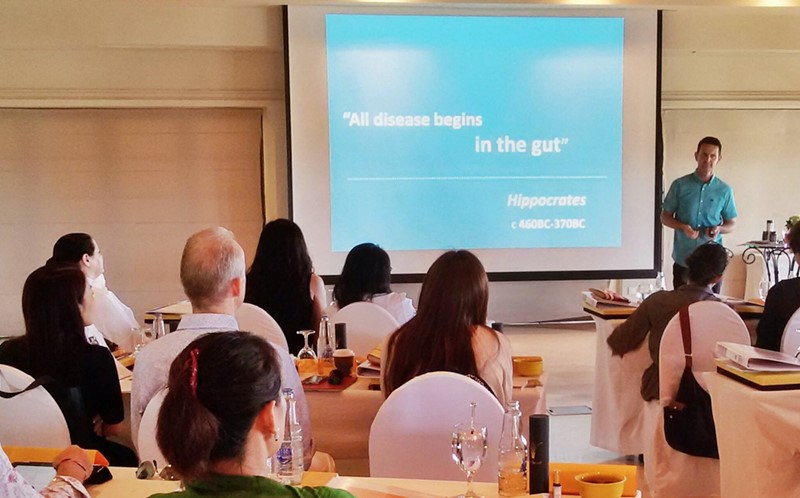 Presentations and Events Listing
ONLINE - ALZHEIMER'S CONFERENCE
The Alzheimer's and Dementia International Conference
We co-authored a abstract – poster presentation on the 100 Cases of Reversal of Cognitive Decline paper with Professor Dale Bredesen for the Alzheimer's and Dementia International Conference.
Dave Jenkins
was to present this in person in March in Singapore, but the conference was postponed and is now virtual due to the pandemic.
See the introductory video and 4 page poster abstract.
A PDF all the abstracts are available on the link below. This is one of the major international conferences on Alzheimer's and dementia with over 600 pages of abstracts; Bredesen & Jenkins' is number 433 on page 384 in the Research and Innovations section.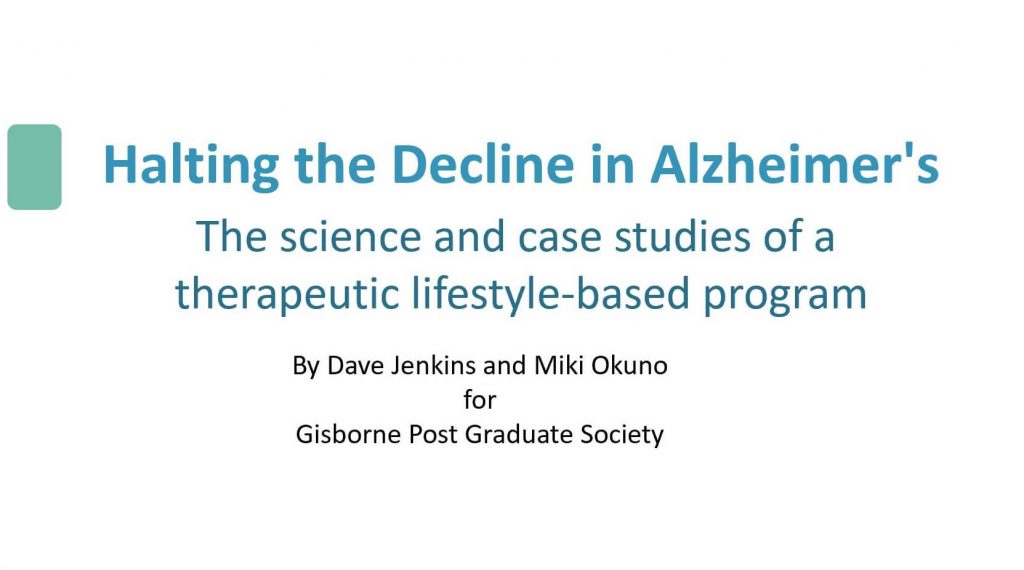 Gisborne Post Graduate Society
A 1 hour presentation by Dave Jenkins for an overview with case studies of the reversal of cognitive decline to doctors from the Gisborne Post Graduate Society.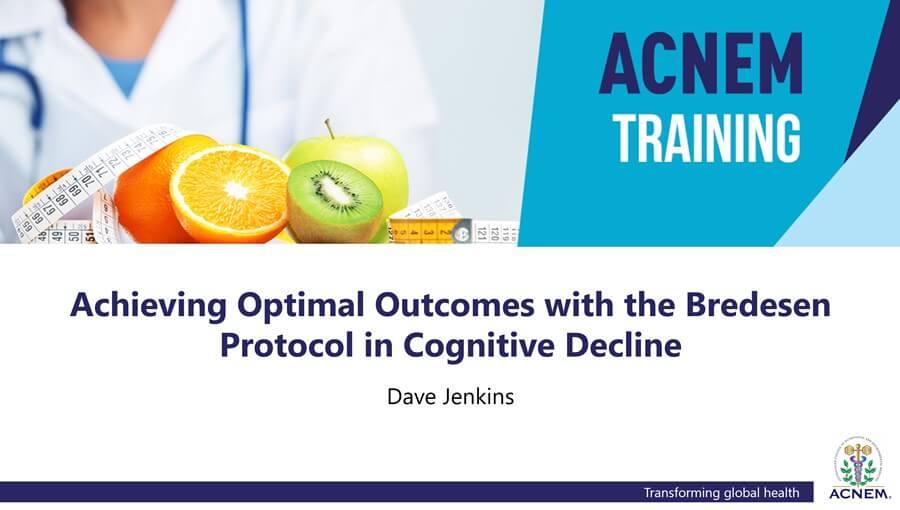 ACNEM ONLINE TRAINING, AUSTRALIA
ACNEM - Australian College of Nutritional and Environmental Medicine
Dave Jenkins' 1 hour webinar training session on 
"Achieving Optimal Outcomes with the Bredesen Protocol in Cognitive Decline"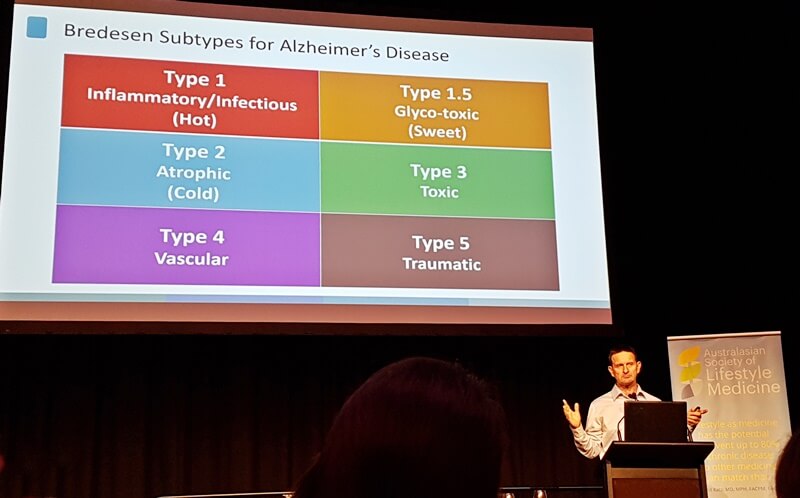 Australasian Society of Lifestyle Medicine Conference
Dave Jenkins' 1 hour presentation on "Halting the Decline in Alzheimer's –
The science and case studies of an effective therapeutic lifestyle-based program"
Details of the conference here: https://www.lifestylemedicine.org.au/conference Alzheimer's Australia Conference 2017 (update 2021: link is no longer active)
GP's can earn Category 1 RACGP QI&CPD points 
NORTHERN BEACHES - SYDNEY, AUSTRALIA
May 16 – 17, 2018
Balgowlah, Dee Why, Avalon, Forestville
We have organised a series of free talks with the Northern Beaches council (Sydney) for the 16th and 17th of May and have invited various speakers in the field to discuss the prevention of dementia.
Speakers include:
Dave Jenkins – End Alzheimer's with case studies on improved cognition and symptoms of cognitive impairment and Alzheimer's disease, how to change behaviours, and an optimal brain day
Dr Pratishtha Chatterjee, Macquarie University – brain stimulation and training, stress management and sleep
Professor Susan Kurrle, University of Sydney – introduction to preventing dementia
Professor Sharon Naismith – brain stimulation and training, the importance of sleep and how to improve it
If you know anyone in the area, please forward the information on our seminars. Be sure to RSVP to the email address of phone number on the flyer, thanks! 
UPDATE: Watch the recordings here: https://www.northernbeaches.nsw.gov.au/services/seniors/dementia-friendly-community/dementia-prevention-resources 
SUNSHINE COAST, AUSTRALIA
ACNEM Conference - Neuroinflammatory Conditions
Dave Jenkins and Miki Okuno 2 hour presentation:
"Principals, Assessments, and Case Studies for the Bredesen Protocols"
and 1 hour presentation: 
"Guidelines for Achieving Compliance and Optimal Outcomes with the Bredesen Protocols"
Alzheimer's Australia's Biennial National Dementia Conference 2017
Dave Jenkins will be presenting a digital poster on the Bredesen Protocol on Wednesday October 18th. 
UPDATE: For the digital poster presentation, click here: Bredesen Protocol Digital Poster (update 2021 – original links to dementia2017.org are no longer online)
ONLINE WEBINAR WITH KATE SWAFFER
Dementia Alliance International
ACNEM Brain Health Conference
Dave Jenkins will be presenting an abstract of the Bredesen Protocol for members of the Australian College of Nutritional and Environmental Medicine.
Details of the conference here: https://conference.acnem.org/events/brain-health-for-better-life-outcomes/Brain Health Conference (update 2021 – link is no longer active)
(For Medical Professionals) RACGP points are applicable
UPDATE: Watch a video of this presentation on the left
By Northland Alzheimer's Association
Whangarei 5:30pm 27 March 2017
Kerikeri 10am 28 March 2017
Alzheimer's Northland is hosting a free 2 hour seminar on preventing and reversing Alzheimer's disease with Dr Dave Jenkins in Whangarei on Monday 27th March and Kerikeri Tuesday the 28th. Please see details on the image.

Be sure to RVSP and share with anyone you know who may benefit.

What you will Learn:
Past presentations:
2015 Keynote on Optimal Health to the Four Seasons Asia Pacific Spa Conference – Bali, Indonesia
2015 Optimal Health, Anti-Aging & Productivity Retreat – Shangri La, Thailand
2014 Keynote on High Return Philanthropy – Belize
2014 Keynote on Health & Longevity at the Younger Summit – Bali, Indonesia
2013 Keynote on Philanthropy to Stansberry & Associates clients in Singapore
2013 Presentation on the SurfAid Story to University of California San Diego Medical Faculty – California, USA
2012 Keynote on Improving Impact Utilizing the New Science in Behavior Change to Pacific Global Health Conference – Hawaii, USA http://www.hawaiipublichealth.org/PGHC
2012 Keynote on Philanthropy to BT Financial Annual Conference – Sydney, Australia
2011 Keynote on Behavior Change to the World Conference on Drowning – Vietnam https://www.ilsf.org/event/2011-world-conference-on-drowning-prevention-2/
Presentations available online are linked above, indicated in blue. To request services for Public Speaking/Education, please contact us. 
Past presentations may be available on request to assess suitability for your event.
Please note: Dave Jenkins retired from general practice and is not currently practicing as nor registered as a doctor